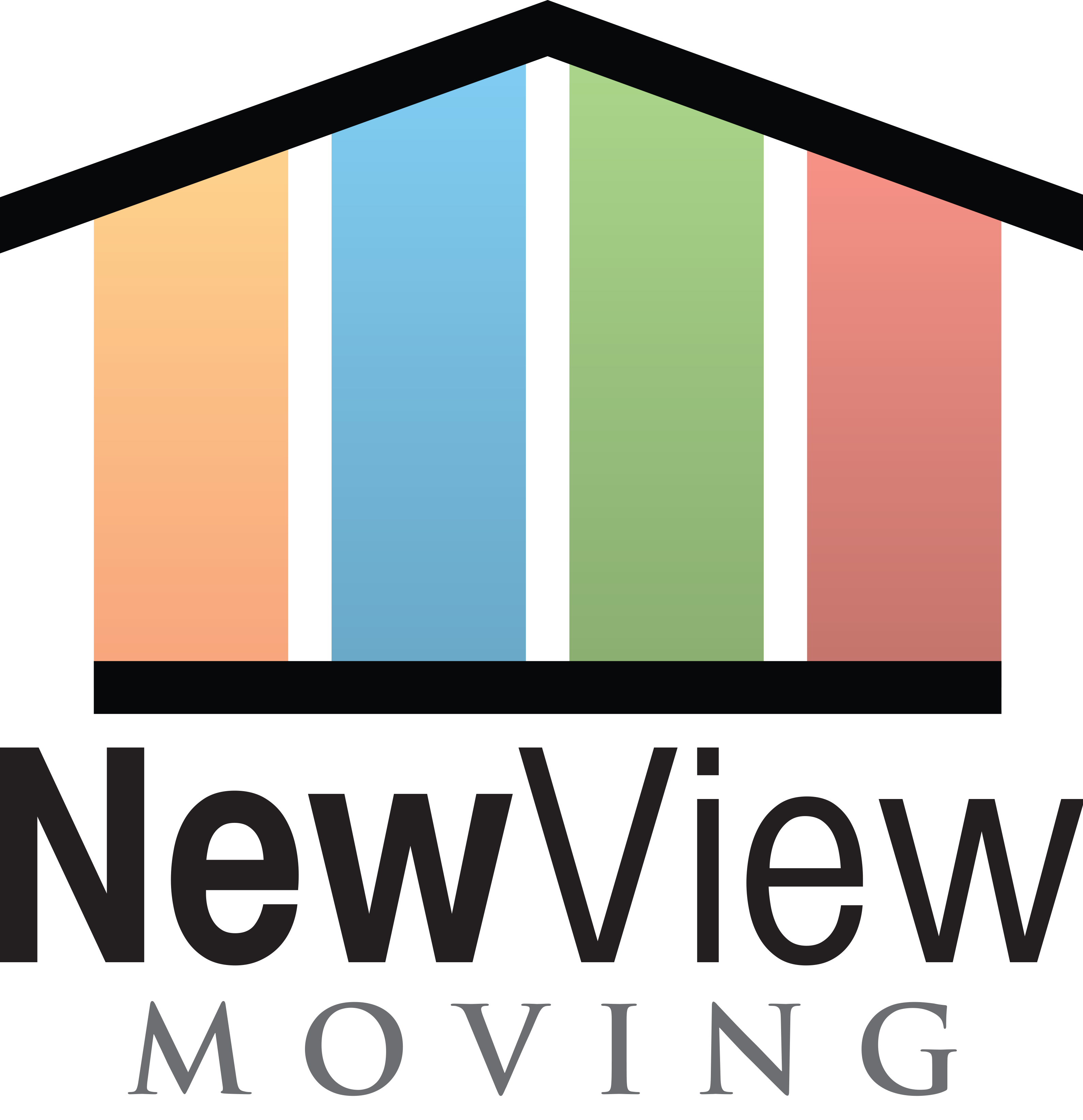 NewView Moving
John and Josh were great. They were punctual, professional, friendly and efficient. Would highly recommend to anyone in need of movers.

---

Mike and Omar made my move a very pleasant and easy one. They really are top notch experts and very knowledgeable. Besides moving my entire apartment, they packed and unpacked the kitchen cabinets for me. I highly recommend NewView Moving. Thank you very much to owner, Marcus Henning and all his staff. Rest assure, if I were to move again, you'll be the first and only company I trust my belongings to.

---

Both men were very curtious and professional, and took pride in there work. I am so glade I choose newview moving, thank you so much for making our move go smoothly

---

Courtesy, careful, went the extra mile. Kept me informed.

---

This group is the best. From my first call for an estimate to the pick-up and delivery nothing but top notch service. Would highly recommend.

---

Mike and Alex were professional, friendly, and quick! All of my items arrived in good condition.

---

Friendly, fun crews and they know how to get any move done. Really like their approach to it all.

---

We had an excellent experience with New view! They were punctual and worked very quickly and efficiently! All 3 guys were very friendly and professional. We would definitely hire this company again and I will be referring to any family and friends. Highly recommend them for you moving needs!

---

---

The guys were great! Will use again

---

the guys were hard working and carefull.

---

The guys did an excellent job thank you for making my life so much easier this move

---

Robert and Marcus was the best part of my moving experience. I have moved and used many different movers and new view movers so far are the best. On time. Listen. Give pro feedback. Have sense of humor and not a lot of jib jabbering. Those guys were on task for 4 hours.

---

I really appreciate the hard work Omar, Alex and Jose did. They took good care of my furniture and completed then move quickly. They were all very polite and helpful. :)

---

---

The time the professionalism and the hard work of the workers

---

---

Marcus & partner were amazing. They worked quickly and expertly and were really helpful in setting up my Mom's room in a Care Home. They are both keepers and I was very impressed with them.

---

How nice and patient those two guys were RJ and his friend I don't know if the other guy's name but they did an awesome job they got it moved in for me and then they took that desk out of here to dispose of and I really appreciate that but everything all in all was great they knew I couldn't do anything because of my foot so I would recommend you guys

---

The guys did more then move the furniture. They helped us put everything together and cleaned up all the boxes and wrapping.

---

Everything went very smooth and they were super friendly

---

Having a new house full of heavy furniture in a few hours, one trip and not being physically miserable. My very thrifty hubby's comment was "money well spent!"

---

Guys were so quick and efficient

---

The guys were great. They were very professional, personable and fast. They covered the doorways and stair rails so they wouldn't get scratched and did a great job of taking care of our stuff. Thanks guys!

---

Flexible with last minute moving times. Finished unloading in 2 hours. Movers didn't drop or break anything. They were all very polite and did a great job.

---

All the guys were trying to do as much possible and not have me move anything! It was very nice of them. I also appreciated how they asked so many questions to ensure everything went to the right place. I was grateful you guys were willing to help with whatever I needed, including helping me screw stuff into the wall.

---

Marcus and his team Omar and RJ were excellent: thorough, respectful of the items, great communicators, timely, friendly, hard-working and professional!

---

They were on time and took very good care of moving my furniture.

---

Omar and RJ did an exceptional job today! It was so hot out and yet they got the job done in a timely matter. They took very good care of my furniture and belongings. I would definitely recommend them. New Move is my new go to moving company. -Thank you Amber

---

Very professional.

---

Omar and Clint were so nice and professional. From the second they got there they went right to work and got the move done in no time and yet they still took good care of everything. I'm sorry we picked one of the hottest days so far to move! We will definitely contact you for all of our future moves and recommend you to our friends and family! Thanks again!

---

Excellent customer service and very efficient!!

---

Guys worked hard!!!

---

Movers even helped packing our stuff. I will definitely recommend to anyone moving in the future.

---

The crew worked quickly and was very accommodating and friendly. We will definitely recommend NewView as well as use you guys again for future moves!

---

---

The mover's was very friendly and worked hard. They was on time and very helpful a joy to work with. I will be moving in February and I want to use those 2 guy's again!!

---

Very nice movers. Knowledgeable about taking apart and putting together difficult beds. Energetic.

---

Clint, Cole and Brandon were amazing. They worked hard, were super helpful and made the move go smooth.

---

Customer service

---

---

The team from New View Moving was great!! I highly recommend them for whatever size move you might have. Lynne

---

NewView Moving was perfect! My last move was so stressful, so I researched a lot to make sure that at least the moving company would be great and would not add to my stress level. The 3 man team from NewView was truly amazing. They moved my 2 bedroom apartment on the 3rd floor into a 2 story home in 4 hours without breaks of more than a minute here and there - and that end of August in the Arizona heat! Hans, Omar, and RJ worked very well together and did not break and scratch anything. They were very polite and were careful with everything. My new home has bright white walls and I was a little concerned about that. I can in all honesty say that the day of my actual move was very relaxing thanks to NewView - yes, I used the words relaxing and move in one sentence LOL. I highly recommend NewView moving.

---

All of the move was flawless. Received call fellows who were on way, arrived at precise time, loaded everything quickly and professionally, delivered items perfectly. Mike and Alex are the best...be certain to keep them as employees. I certainly will recommend to family and friends.

---

The movers were friendly and efficient! Great moving company!!

---

Will be calling you in December when we move into our new house. Thanks for the help.

---

Very professional, hard working movers! I would strongly recommend them to everyone!

---

The movers were very friendly.

---

No worries

---

Movers were friendly and went above and beyond what I expected. Your moving service isn't the cheapest but it's the best I've ever used.

---

Amazing moving company! The staff we had went above and beyond. I highly recommend them!

---

when I first started looking to hire a mover, Marcus was the only person of all the moving company's I contacted to come out to our place and evaluate and explain the move. Also the men who moveed us were professional and very courteous. Thank you Ron Long

---

Fast, courteous, professional movers. They were on time and very thorough.

---

Very good

---

Nice people efficient courteous

---

The moving crew today was absolutely excellent! Very hard-working and very efficient. Also very pleasant and nice!! Thanks guys!

---

Courteous and thorough. Did a very good job

---

Very careful with everything but fast as well...very efficient!

---

---

NewView Moving was ouststanding! I highly recommend them! NewView Moving moves us out of one house, stored the furniture, and then moved us into our other house a week later. The movers were great… Very personable, efficient and fast! Clint and Richard were absolutely wonderful!! Thank you!!!!!

---

The guys were great! They were fast and extremely efficient, couldn't have asked for better!

---

Clint and Rich were very professional, friendly, efficient and careful with my possessions and move. I highly recommend these gentleman and company. I will be asking for Clint and Rich as my movers when I need to move again. No Complaints! Only Compliments! Outstanding Job Gentleman, and thank you very much for making my stressful moving day a walk in the park.

---

Hard working friendly guys

---

Thanks once again to New View Moving!! We have used them 3 times and Clint and his crew are absolutely the best!! Highly recommend this company!

---

---

When I unpacked to find my bedroom blankets were folded up nicely I cried..... We had to move suddenly after a flood, so it was the little things they did that made it less stressful on us. Thank you for everything!

---

The crew was fast, professional and took great care with my furniture. They did a great job!

---

Clint, Cole and RJ were amazing. Mike, Alex and Jose were also super.

---

I was not happy with the crew that moved the stuff into my condo. Stuff is placed everywhere and not where is should have been. Stuff was packed into my closet so I could not hang anything. The men tgat packed my house did an excellent job, Mike, Alex and Jose. It was a long day for all.

---

The movers were on time and very respectful.

---

Clint and RJ were top notch professionals. Definitely will ask for them if I ever need to move again. Prompt, courteous and hardworking guys. Thanks!

---

Professionalism, expeditious, prompt, friendly, protected my belingings as if it was their own. I would highly recommend New View Moving! Would not hesitate to contact again if moving in future.

---

The care and timeliness of the the crew was amazing... they packed everything well and got it to the destination without ever taking a break. Will recommend to all

---

If you have the pleasure of working with Mike, Alex, and Jose then you will definitely get your money's worth with the utmost professionalism and care.... they treat your stuff as if it was their own... I would most definitely recommend them for they are very hard-working men and do not waste time standing around

---

If I ever move again, New View is the only company I'm calling. Thank you so much!

---

---

Cliff and RJ....great guys. They took great care with the stuff they packed. Very helpful and accommodating I am sure they will do the same when they unload.

---

---

Time efficient, accommodating, polite

---

Quick Professional Communicated I didn't have to do it. lol Your guys were awesome! Thank you.

---

Movers were friendly, efficient, and quick- thank you!!

---

The team was extremely polite and respectful to our property

---

The guys worked their butts off and did a very thorough job. They were careful with our belongings and very professional. They worked fast and were super polite. Best moving experience. Highly recommend.

---

---

I would like to call out Robert and RJ for an amazing experience. Their hard work and hustle made the moving experience one for the books. Thank You!!! ...we will be highly recommending NewView moving to all those who are looking.

---

How well the men worked quickly and carefully

---

Moving is so stressful, but NewView Moving made it so less stressful. Major kudos to Robert and RJ for answering the call to me and my budget. Came ready with truck and everything they needed to get me in my new home. Quick and to the point. Thank you again! I will definitely be using you again and for sure will be recommending you! Gonna take a nap now because watching them do all the work wore me out! ROCKSTARS!

---

All 3 guys were fantastic. I would love for this crew to move me any time. Will definitely recommend and use you guys again! And would want this same crew every time!

---

The best part of the moving experience was the attitude of the two movers. They were not only friendly and courteous, they also put things exactly where I wanted. Sometimes I even changed my mind and they moved them again with a smile. They showed no aggravation whatsoever. They took great care in preparing my furniture for the move, so it would arrive in the same condition as before the move. This is my 29th move in 61 years, and this is by far the best crew and the best service I have ever experienced - A1+. The move couldn't have been any better or gone more smoothly. I strongly recommend New View Moving, and would use them again.

---

The movers were professional, and very pleasant. Worked hard! Very pleased

---

Professional and timely and took good care of my stuff.

---

The guys were on time. They didn't jib jabber too much. They were fast. They cared about my stuff. It was just a good move and the weather was cool. Thanks Robert and John.

---

The workers were awesome. They did such a good job they were so professional and very nice. It was a stress free move

---

Great! Nice guys, called and kept me informed. Highly recommended :D

---

Great guys! Quick, on time and took great care of our furniture. Will definitely recommend!

---

The two gentleman that came were very professional, and friendly. I highly recommend you to friends and family. Thanks.

---

Phenomenal service! How many issues I had? NONE: no scratches, no dents, no chips, no incidents. It was flawless. These guys - Robert and team- delivered the best moving service we ever had. Not only I recommend New View Moving, but I'll hire them again.

---

They was great very nice and professional

---

Great

---

Professional, courteous, hardworking.....I have used them 3 times for my moves. They are the best!!!

---

On time. All so professional. Patient with older people. Great rates! I cant say enough about how great they are

---

Fantastic beginning to finish.

---

Speed; friendliness; care of furniture.

---

Guys were awesome!

---

Super nice and friendly guys who really took care of my mom's stuff while she was in the hospital worried about not being there for her move. They spent their Sunday helping us move her for 5.5 hours and we are so greatful!

---

The guys were great!! Move went smoothly and I was in sooner than anticipated. Would definitely recommend!!!

---

Great experience! Thanks guys. You're our go-to team.

---

RJ and his partner were on time and great movers. We will definitely be using them again! Thank you!!

---

Great service and attentive service! Friendly guys!